Author Peter Kaminsky joins Chefs for Clearwater as keynote speaker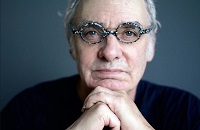 BEACON – Clearwater's second annual benefit event, Chefs for Clearwater will take place on Sunday, Sept. 17, 2017 at 4 p.m. at The Culinary Institute of America (CIA) in Hyde Park.
Author Peter Kaminsky will be the keynote speaker. Kaminsky's Outdoors Column has appeared in The New York Times for 25 years. Kaminsky was New York Magazine's Underground Gourmet for four years and has contributed regularly to many national publications. His books include Pig Perfect: Encounters with Remarkable Swine, The Moon Pulled Up an Acre of Bass, Culinary Intelligence, The Elements of Taste (with Gray Kunz), and 7 Fires (with Francis Mallmann). His collection of Mark Twain's travel writing ("The Chicago of Europe") was published by Sterling Press.
Kaminsky appeared at the most recent quadrennial gathering of Mark Twain scholars at Elmira College Celebrate where he delivered the keynote speech "Remarks By The Least Qualified Person In The Room." He is the former Managing Editor of National Lampoon and one of the creators and executive producers of The Kennedy Center Mark Twain Prize for American Humor and The Library of Congress Gershwin Prize for Popular Song, which was awarded by President Obama. "I'm guessing there's 15 million people in the Hudson watershed" said Kaminsky. "We each have our own special reason for loving this river. For me, it has run all through my life. It's my Mississippi and my Nile."
Chefs for Clearwater is a partnership of leading Hudson Valley Chefs, the CIA and Clearwater, aimed at spreading awareness of critical issues involving sustainability and food ethics, and how it relates to the Hudson Valley watershed. The event is a fundraiser to support Clearwater's environmental education and advocacy programs on the Hudson River.
The master of ceremonies will be Grammy-winning singer/songwriter Tom Chapin. Chapin has been lauded as "one of the great personalities in contemporary folk Music". Tom Chapin has covered an incredible amount of creative ground. In addition to his work as a recording artist and concert performer, Chapin has acted on Broadwayas well as working extensively in films, television and radio.
The benefit will include a silent auction and a live auction led by auctioneer George Cole. With Cole's special flair and finesse, he has been mentioned year after year in "The Best of the Hudson Valley".
Chefs for Clearwater benefit dinner will feature live bluegrass music by Two Dollar Goat, and a six-course farm-to-table menu created by Chef Sara Lukasiewicz of The Amsterdam in Rhinebeck, NY; Chef John McCarthy of The Crimson Sparrow in Hudson, NY; Chef Jay Lippin of Crabtree's Kittle House in Mt. Kisco, NY; Chef Michael Kaphan of Purdy's Farmer & The Fish in North Salem and Tarrytown, NY; Chef Waldy Malouf of The Bocuse Restaurant at The Culinary Institute of America in Hyde Park, NY; and Chef Kristina DePalma of The Roundhouse by Terrance Brennan in Beacon, NY.
This year's producers and sponsors include: Fishkill Farms, Farmers Door, Millbrook Vineyards & Winery, Whitecliff Vineyard & Winery, Clinton Vineyards & Winery, Orchard Hill Cider Mill, North River Roasters, Smart Beer, Eve's Cidery, Colavita, Eco Bags, Chronogram, BinneWater, The Farm on Hussey Hill, Regeneron, Wondrous Things, Holbrook Cottage, Hudson Valley Harvest, and Phoenicia Honey Co.