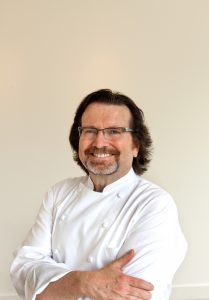 Our co-host, organizer, and Clearwater friend who is excited to do this for us again in 2017
Chef/CEO Brennan Group Hospitality
With a culinary career spanning over forty years, Terrance Brennan is a highly-accomplished chef, restaurateur, consultant and entrepreneur. Even at an early age, he knew that he wanted to be a chef and, at the age of thirteen, began cooking in his family's restaurant in Virginia. Throughout his career, Chef Brennan has won multiple awards and accolades and is one of America's most renowned and imaginative chefs and restaurateurs.  Terrance is the Chef/CEO of Brennan Group Consulting and Brennan Group Hospitality, which has launched numerous critically acclaimed restaurants and products.
After working a multitude of positions in several restaurants and hotels in Virginia and Washington, DC, Terrance moved to New York to work at the legendary Le Cirque restaurant. During his two and half years there, he worked every station, eventually earning a promotion to Sous Chef. "It was very intense," Terrance recalls. "I lovingly refer to my time at Le Cirque as 'Haute Cuisine Boot Camp.'" Terrance then continued to hone his skills and talents by moving to Europe to work in some of the greatest Michelin-starred kitchens, including: Taillevent, La Tour d' Argent, Les Crayeres, La Grovoche, Gualtiero Marchesi and Locanda dell' Anglelo. His training in Europe was a "self-imposed apprenticeship," and Terrance still considers it his "finishing school." A defining moment for Terrance came while working under Chef Roger Verge at Le Moulin de Mougins in the south of France, where he was inspired by the region's "cuisine of the sun." Here, his personal, unique culinary style began to emerge.
Chef Terrance Brennan took his craft back to the states where he became executive chef of several critically acclaimed restaurants. In 1993, he opened his first restaurant, Picholine.  Named after the petite green olives indigenous to the Mediterranean, Picholine's inspiring menu featured seasonal French-Mediterranean cuisine. Picholine's renowned cheese cart displayed more than forty of he world's finest artisanal cheeses. The restaurant quickly became a premier dining destination, earning three stars from The New York Times, four stars from New York Magazine, as well as two stars in the Michelin Guide, as well as earning a James Beard nomination for Outstanding Restaurant. In 1995 Chef Brennan was awarded "Best New Chef" by Food & Wine Magazine. Picholine was open for nearly a quarter century, an accomplishment few American restaurants have achieved.
Terrance's strong passion for artisanal cheeses prompted him to use Picholine as a launching pad for the presentation of the traditional European cheese course. Terrance extended his groundbreaking cheese service in 2001 with the opening of Artisanal, a bistro-fromagerie-wine bar that gained immediate prominence as a shrine to the pleasures of fine cheeses and French Bistro fair. Artisanal was the first restaurant in the United States to feature a cheese shop and cheese aging "caves" within the restaurant.
In 2003 Terrance paid the ultimate "homage to fromage" when he opened up The Artisanal Premium Cheese Center, a 10,000 square-foot facility dedicated to the selection, maturation and distribution of the world's finest artisanal cheeses. Another first of its kind, The Artisanal Premium Cheese Center sold cheeses to the finest hotels and restaurants across the country, consumers through it's website and notable companies such as William Sonoma, Neiman Marcus, Starbucks, and Air France. The Center also taught classes on cheese and wine to the public and industry professionals. In 2006 Terrance developed a cheesecake for retail that won the overall award for "Outstanding New Product by the National Association of Specialty Foods" at the New York Fancy Food Show.
In 2013, Terrance launched Brennan Group Consulting, followed by Brennan Group Hospitality in 2015. Both companies offer a wide range of services from ideation to turn-key, with an emphasis on restaurants, food and beverage and the hospitality industry. Brennan's most recent project is operating The Roundhouse by Terrance Brennan in Beacon, NY, a farm-inspired, nose to tail American restaurant. The Roundhouse is committed to supporting local farms, artisans, wineries, distilleries and cideries in the Hudson Valley.
A popular celebrity guest chef, Terrance has appeared on the NBC Today Show, PBS, The Food Network, Martha Stewart Living Television, Anthony Bourdain: No Reservations, Beat Bobby Flay, CBS Morning News, CBS The Early Show and Live with Regis and Kelly.  In addition, Terrance is the author of Artisanal Cooking: A Chef Shares His Passion for Handcrafting Great Meals at Home (Wiley, 2005).
Terrance is also the proud holder of the Guinness World Record for the "World's Largest Fondue." Created on the Today Show, the one-ton creation helped serve 5,000 meals for the local charity City Harvest.
Terrance believes in giving back and supports numerous charities, including Share Our Strength, City Harvest, Meals on Wheels and he is a board member of Common Ground Farm a non-for profit farm that serves the community as a model for food justice and education for people of all ages and incomes.
When Terrance became acquainted with Clearwater's mission to preserve and protect the Hudson River and its watershed, he saw the synergy, and generously offered his expertise toward creating a unique culinary event that brings the Valley's interest in clean water and clean food together to raise money for Clearwater while promoting sustainability and locally sourced food.
---
Our Renowned 2016 Chefs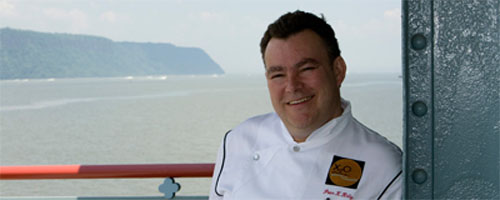 Peter X. Kelly
For nearly 3 decades Peter X. Kelly has set the standard for dining in New York State. Operating the most critically acclaimed restaurants in the Hudson Valley. Peter is an experienced, talented and successful entrepreneur. His Contemporary American Cuisine brings dining to a new level by providing his guests with exquisite food and superb service.
Born in Yonkers, New York, tenth in a line of 12 children, Peter began working in local restaurants at the age of 14. While studying Business Administration at Marist College, Peter held a number of kitchen and front-of-house positions in some of New York States' finest restaurants. In 1983, Peter's culinary interests led him on a pilgrimage to France, and to the pursuit of perfection in the culinary world.
At 23, this self-taught chef opened Xaviar's in Garrison and began his journey to success. To date, Peter owns some of the most renowned & acclaimed restaurants in New York State, all located in the Hudson Valley, north of New York City. Xaviar's at Piermont, The Freelance Cafe and Wine Bar, Restaurant X & The Bully Boy Bar, and X2O Xaviars on the Hudson have all received popular praise and the industry's most coveted awards and accolades which include The New York Times highest rating (Extraordinary), The Mobil Travel Guide Four Star Award, The Dirona Award, Restaurant News Dining Hall of Fame, Wine Spectator's "Best of Award of Excellence", Zagat's Survey (29 out of 30), New York State Restaurateur of The Year 1998.
Peter Kelly has been featured in numerous national publications including: New York Magazine, Esquire Magazine, Crain's, USA Today, W Magazine, Food Arts, Gourmet Magazine, Wine Enthusiast, Food & Wine and Bon Appetit.
Peter has been invited to cook at The James Beard House, appeared on the Food Channel TV Network, as well as numerous appearances on CBS & NBC. Peter has also been nominated for the prestigious James Beard Award for Best Chef Northeast
In 2007 Peter appeared on the Food Networks Iron Chef America and beat Bobby Flay in Battle "Cowboy Rib Eye", he also played host to Anthony Bourdain on his "No Reservations" program, introducing Tony to the beauty of the Hudson Valley.
Since the early 90's Peter has also been a vintner. His wines at Xaviar's Cellars in Napa Valley were known as "Silenus" (the Teacher of Bacchus in Greek Mythology) and were applauded by the NY Times and Wine Enthusiast Magazine at their introduction in 1991. Peter continues to work with wine growers and makers and has consulted on several bottling's from the emerging Hudson Valley region.
In 1999, Peter assembled a "dream team" of culinary "superstars" and became the founding chef and culinary director for Impromptu Gourmet, a revolution in home dining.
He is also the founder of "Events by Xaviars", which offers catering for parties between 100 and 2000 people.
In addition to Peter's entrepreneurial spirit he has also been an active participant in many charity and community organizations including:
• Nyack Hospital Pediatric Center
• Founder Dine Out For Kids Rockland
• Board Member Putnam County Historical Society
• Advisory Board Monroe College Culinary Arts Program
• Commencement speaker Culinary Institute of America
• Cluster
• Hudson Valley Health Care (2008 Honoree)
• Westchester Coalition for Homeless & Hungry (2007 Honoree)
• Hudson River Museum
• Red Cross Hudson Valley
• Dominican College Advisory Board
• Elizabeth Seton Pediatric Hospital
• St. Johns Hospital
• Yonkers Partners in Education
• Share our Strength
• Make a Wish Foundation
• March of Dimes
• Rockland ARC
• Rockland Center for Arts
• Hospice of Cincinnati
• Bethesda Foundation
• City Meals on Wheels
• Table to Table (2004 Honoree)
• Westchester Food Patch
• Sponsor of numerous youth sports programs
• Windows of Hope
• Nofa New York
• United Way
• Westchester Arts Council
• One To One Learning Center
---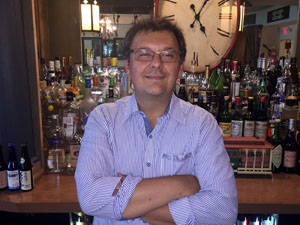 John Lekic
John Lekic is the Chef/Owner of Le' Express which is a farm to table Bistro in Wappinger Falls New York in the Hudson Valley.
He loves working with local farms and he specializes in on site farm dinners with a menu that is created from ingredients grown and sourced from the farm where the dinner is to be held.
He believes that as sand and beaches is subconsciously synonymous with Miami so should a farm dinner experience be with Hudson Valley.
His inspiration is drawn from sourcing ingredients throughout the Hudson Valley and creating unique dishes that reflect our Terroir.
He believes in the preservation of boutique agriculture and supporting our small farms while emphasizing that two same ingredients are not always equal to each other.
How things are done and grown at the farm matters.
John believes that these are still young days for the Hudson Valley in terms of growth and tourism.
He also thinks that our regional cuisine has not yet been defined and that here lies a great opportunity to plot the course for our future.
The core of Hudson Valley cuisine when defined should be focused more on small local farms that use sustainable practice. Embracing philosophy of less is more which means cleaner food with less chemicals, pesticides, and fillers.
John believes that there is a need to promote our Terroir to tell the story of our region and people who are behind these small farms.
Chef and Owner John Lekic have been in the industry for past 23 years.
His Chef De Cuisine for past 4 years is Isuf Sahiti.
John Lekic has an extensive resume that encompasses his work experience in various cuisines and concepts in some of the finest restaurants in New York City, Las Vegas and the Hudson Valley.
Our goal is to utilize locally sourced Hudson Valley ingredients, promote this region, and create a special place that will provide you with a memorable dining experience.
---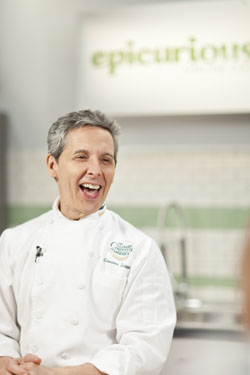 Giovanni Scappin
As assistant professor in culinary arts at the CIA, Chef Giovanni Scappin inspires young culinarians everyday by setting a high standard of excellence that reflects his many years of restaurant experience. Indeed, he began his career as a young boy watching his father cook. Gianni says his father imparted an important lesson during those times. "He cooked, you see, with his soul," Chef Scappin explains."
The young Gianni studied at the Recoaro Terme Culinary Institute in Italy. After graduation, he worked in some of the best restaurants and hotels— learning about the regional cuisines of Italy. In 1983, his wanderlust brought him to America. As executive chef for Castellano in New York City, Gianni introduced Americans to such authentic iconic dishes as, foccacia, tiramisu, and risotto. He was asked to become the corporate chef for Bice Group, opening their restaurants in major cities all over the country and abroad. Recruited by famed restaurateur Pino Luongo, he eventually rose to oversee the operations of Luongo's entire restaurant empire.
Having earned the reputation as one of Manhattan's most respected interpreters of regional Italian cuisines, he was twice invited to serve as a guest chef at the James Beard House.
The CIA sought him out as a consultant when establishing Ristorante Caterina de' Medici in the Colavita Center for Italian and Wine. Upon its completion, he was asked join the CIA faculty.
A man of boundless energy, Chef Scappin found time what on the faculty to open a number of highly successful Hudson Valley restaurants including Cucina in Woodstock, NY and most recently Market St. in Rhinebeck, NY In between training aspiring chefs and launching new restaurants, Chef Scappin has found time to co-author notable cookbooks.
---
Melissa Walnock
Lecturing Instructor—Baking and Pastry Arts
The Culinary Institute of America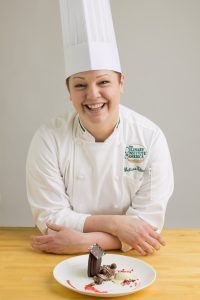 Melissa Walnock is a lecturing instructor of baking and pastry arts at The Culinary Institute of America (CIA). Chef Walnock serves as pastry chef and instructor in the college's Apple Pie Bakery Café, an award-winning retail operation staffed by students in the CIA's baking and pastry degree programs. Her class, titled Café Operations, provides students with realistic "hands-on" industry experience using their professional baking, pastry, and service skills.
Chef Walnock earned her bachelor's degree in baking and pastry arts management from the CIA in 2001. A Certified Hospitality Educator (CHE), she has been the pastry chef in the American Bounty Restaurant on campus and taught the freshman-level Baking and Pastry Techniques course since returning to her alma mater as a faculty member in 2011.
Before joining the CIA faculty, Chef Walnock worked at some of the finest restaurants in the United States. She was pastry chef at Nicholas in Red Bank, NJ and Tabla in New York City; pastry chef de partie at The French Laundry in Yountville, CA; pastry sous chef at Jean-Georges V Steakhouse and head of production at Jean-Georges in NYC; and pastry cook at Union Square Café in New York City and The Breakers in Palm Beach, FL.